A complete solution
What does MTrackAG offer ?
Mobile and Office based Time & Attendence recording
In-field piece work recording
In-field Labour efficiency reporting
Packhouse Management

Intake
Quality Control
Despatch
Income reconcilliation back to production locations *

Stock Usage (Inventory Management)
Task Costing
Location Costing

Business
Site
Block etc..

Production Costing vs Yield

Variety
Class / Quality
Pack Style etc.
Our solution aims to make your business data work for you. To this end we beleive that the following criteria need to be met.
Data needs to be collected using simple to use intuitive tools.
Managing this data needs to be simple and quick.
Reporting needs to be flexible and inclusive.
This results in buy-in from all the staff involved, from the supervisor in the field to the director in the board room, so that everyone speaks the same language in terms of operational reporting.
A simple day in the life of MTrack AG
Capturing Time and Attendence data along with production data (Piece Work). To acheive this you could use mobile applications in the field, or PC based timesheet tools
Mobile Data capture is acheived by using either dedicated scanners for barcode based recording, or low cost android tablets and phones for either barcode or proximity card(NFC) recording
Teams of workers go out onto each farm and start harvesting products from the fields, each worker is paid a piece rate for each item that they produce.

Tasks in the field can be paid by the piece, hour or a combination of both. All rates are controlled from the system administrators back in the office.

Below are a few screen shots from a scanner in the field.

Editing and Verifying: Once the days work has been completed, the operators simply send the data back to the central data base using either a standard WIFI or GPRS connection depending on the device capabilities.
The days data can then be verified or edited using tools on the PC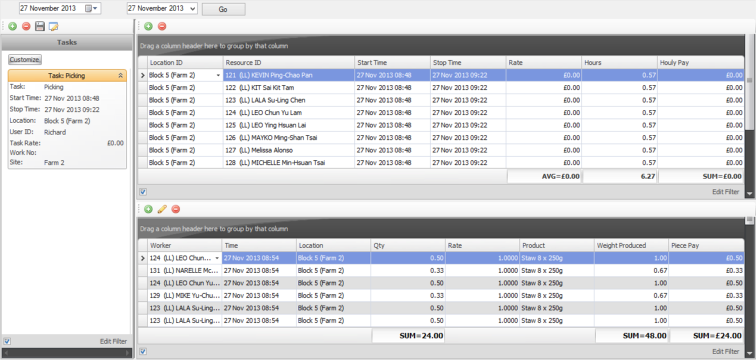 Reporting:The system allows users to report on captured data the way that they want to, be it graphs, mapping, grids or excel. Managers can access data using phones or tablets wherever they are.